The SureHands® Body Support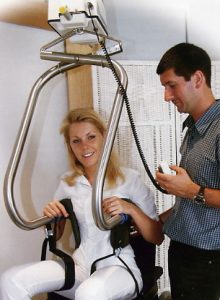 Imagine the safety and security of being lifted by a strong pair of hands, the same way a mother lifts her child. That's how the body support feels. The upper body is supported by the padded cups (hands) while the thighs are supported by the strong supports that go under each thigh. As the person is lifted, the curve-around cups automatically self-adjust to their exact size and weight. The waist-band and buttocks are unobstructed, making toileting and changing clothes possible while the user is suspended. Self transferring, swimming therapy and attendant transfers are all more possible with this innovative device.
The SureHands® Wall-to-Wall™ lift system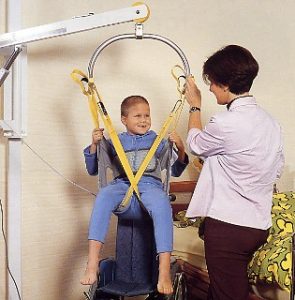 The Wall-to-Wall™ lift system offers and ideal solution for small areas where a mobile lifter would be cumbersome or impossible. Easy to store when not in use and portable, too. A budget friendly price with versatility. This system is often used in small spaces such as the bathroom where it is placed between the bath and the toilet. The telescoping boom arm makes it possible to achieve different arcs from the same wall mount. The optional wall lift extension provides even greater flexibility.
This lift is easier to install than an overhead ceiling track system because it can also attach to a floor-to-ceiling standing support with adaptable top and bottom brackets for wall and/or floor mounting. It has all the advantages of a mobile lifter but without the mobile base. When not in use, the telescoping boom arm can be closed to its shortest position and folded against the wall and out of the way; not taking up precious space in the room.
The Wall-to-Wall™ system is easy to remove from the mounting plate and light enough for some people to move it from one location to another. This makes it possible to use the same Wall-to-Wall™ system in multiple locations. Like other SureHands® systems, the compact Wall-to-Wall™ system can be used with the SureHands® body support as well as any SureHands® sling. Works on 120V/60HZ household current with GFI outlet. Lifts persons weighing up to 320lbs.
The SureHands® Ceiling track installations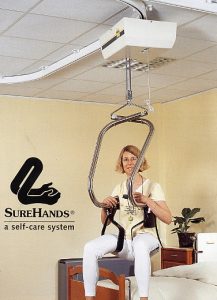 SureHands® durable ceiling tracks are constructed of a strong aluminum alloy and enameled in high gloss white to blend with most ceiling colors. The multiple and small synthetic wheels within each motor system ensure that the sound is kept to a minimum as the motor travels along laterally. SureHands® specialists work with designs for new construction as well as existing spaces. Practicality and simplicity are blended with functionality to achieve the best solution for each client.
SureHands® ensures the safety of your ceiling installation by requiring ceiling supports every 1 meter. Each ceiling support is secured with two bolts or threaded rod to make it doubly safe. Straight track or 45 oand 90 degree curves are available. Even mounting through false ceilings is possible. Additional switches and turning tables make it possible to switch tracks for even greater accessibility.