Kurzweil 3000 for Windows & Mac V20 Kurzweil Reading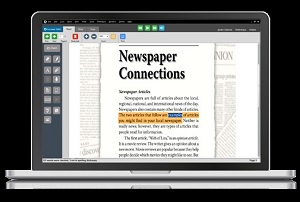 FOR READING
31 Natural Text-to-Speech voices
Text-to-Speech in 18 languages and dialects
Customizable reading rate and presentation
Improve readability with OpenDyslexic font and Text magnification
ABBYY FineReader® OCR-highest accuracy in reading aloud
Magnify text for learners with visual impairments
Keyboard shortcuts
Read text in Word, PDF, EPUB, RTF, Daisy, and on the Web
Read locked text in PDFs and images, exactly as they appear
Access to over 1,800 classic literature texts
Create MP3 files and add to iTunes Playlist
Resume Reading brings opens the exact page you were last reading
Ensure reading and test-taking integrity—now even faster—with Dual Zone Editing
Use Page Range to bring in select pages or chapters into the online library
Read aloud basic math with Talking calculator
Change background and text color with the click of a button
FOR COMPREHENSION
One-click access to American Heritage dictionaries®; Fifth Edition, Children's, and College Writer's Dictionary
Widgit Picture Dictionary and Talking dictionary
Expand word choices with the Synonym button
Vocabulary study guides; English and bi-lingual
Engage learners with 5 different Note tools; including Sticky and Voice notes
Mark important place in text with Bookmark tools
Highlight key text structures with Multiple colored highlighters
Cross-out text to aid with the process of elimination
Identify important information with red and blue Circle buttons
Create Study guides
Organize text into Column notes
Stay on task with research using Online reference tools within the software
Support active reading, note taking, and chapter summaries with templates
Translate words or full passages to 70+ languages
Call 1-800-645-0673 for pricing!
Kurzweil Writing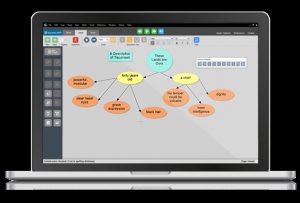 FOR WRITING
Writing Path facilitates writing from beginning to end
Map ideas with Brainstorms and Graphic Organizers
Start writing with template Outlines
Word prediction offers words based on frequency
Use Word lists to facilitate the use content specific words, including Tier 2 academic vocabulary and Language of Literature
Practice spelling and check spelling
Speak as typing helps learners self-regulate their writing
View outlines and drafts simultaneously with Split screen
FOR TEST-TAKING
Create a test or assignment with the Test-prep Toolbar
Lock features for a test or quiz
Password protect tests and other documents
Create assignments with fill-in-the-blank, essay, multiple choice, short answer, true/false
Customize accommodations with a Test-taking tool bar
Call 1-800-645-0673 for pricing!
Read&Write for Windows & Mac Version 12

In addition to a new look and feel for the product logo, toolbar, and toolbar icons, other exciting new additions include: Support for Office 365, new PDF Aloud viewer, new PDF Flow Editor, new feature video tours, and more! Read&Write's customizable toolbar provides reading, writing, studying, and research support tools within familiar applications (i.e. Word, Google Docs, IE, Chrome, Firefox, Adobe Reader).
Read&Write  for Windows Toolmatcher: Not sure which Read&Write features are right for you or your students? The FREE Online Toolmatcher matches an individual's support needs to the appropriate features on the Read&Write toolbar.
Benefits of Read&Write for Windows:
Improves Reading Fluency and Comprehension

Facilitates Research, Writing, Studying, and Test Taking

Integrates with Mainstream Applications

Encourages Independence and Inclusion

Supports Common Core State Standards

Provides UDL Tools that Benefit ALL Students across all RTI Tiers

Prepares Students for Success in College and Careers
Features:
Reading – Text-to-Speech, Screenshot Reader, DAISY Reader, Screen Masking & PDF Aloud

Reading Support – Dictionary, Picture Dictionary, Speech Maker, Pronunciation Tutor & Translator

Writing and Self-Editing – Spell Checker, Word Prediction, Word Wizard, Sounds Like and Confusable Words, Verb Checker, Speech Input, Speak While Typing, Word Cloud & Voice Note

Study Skills and Research – Calculator, Fact Finder, Fact Folder, Fact Mapper, Study Skills Highlighters, Vocabulary List Builder

Additional Features -Scanning, Teacher's Toolkit, Flow Editor, Testmaker, Create Lexiflow eBooks, Support for MathML, NIMAS Conversion Tool & Office 365
Call 1-800-645-0673 for pricing!
KNFB Reader for Enterprise Edition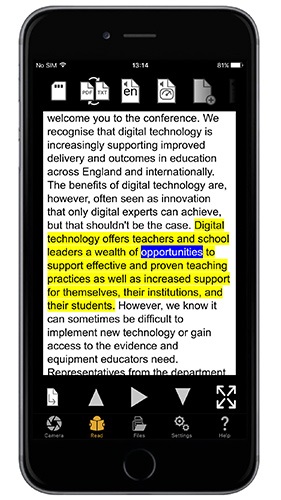 The KNFB Reader can recognize and read printed materials in a variety of languages.
By harnessing the power of digital photography coupled with state of the art hardware, this app, originally designed for people are blind or visually impaired, is also a solution to those with reading difficulties who simply want text translated in to audio feedback. The text is highlighted as it is read. It is very fast and accurate.
Fast

: With the touch of a single button, read virtually any type of printed text, including mail, receipts, class handouts, memos and many other documents.

Accurate

: Accuracy is facilitated by a field of view report, automatic page detection, and tilt control.

Efficient

: Proprietary document analysis technology determines the words and reads them aloud to the user with high quality text-to-speech. Also highlights words as they are spoken.
 One solution for several devices: KNFB Reader Enterprise
If you want to use your KNFB Reader app on multiple devices and platforms, KNFB Reader Enterprise is the right solution for you. Versions available for iOS, Android and Windows! With a KNFB Reader Enterprise license, you can install the app on 2 or more devices, independently of the platform you use. Turn on link to Dropbox, allowing backup and restoring files from Dropbox and easy file sharing. 
Call 1-800-645-0673 for pricing!