JAWS® for Windows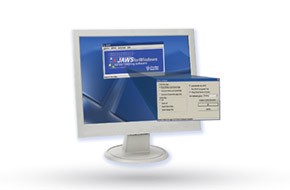 The most popular screen reader worldwide, JAWS® for Windows works with your PC to provide access to today's software applications and the Internet. With its internal software speech synthesizer and the computer's sound card, information from the screen is read aloud, providing technology to access a wide variety of information, education and job related applications. JAWS also outputs to refreshable Braille displays, providing unmatched Braille support of any screen reader on the market. A training tutorial is included. 
JAWS enables people with vision loss to independently use a computer with a keyboard, speech, or Braille display. With JAWS, you can navigate the Internet, write a document, create spreadsheets and presentations, email correspondence, and much more from your office, remote desktop, terminal servers, and from home.
Features:
Two multi-lingual synthesizers: Eloquence and Vocalizer Expressive
Talking installation
Built-in free DAISY Player and full set of DAISY-formatted basic training books
Works with Microsoft Office, Internet Explorer, Firefox, and much more
Supports Windows® 8.1 and Windows 10, including touch screens and gestures
Support for MathML content presented in Internet Explorer that is rendered with MathJax
Fast information look-up at your fingertips with Research It
Convenient OCR feature provides access to the text of PDF documents, even those with scanned images that are reported as empty documents by screen readers
Save time with Skim Reading
The only Windows screen reader to provide contracted Braille input from your Braille keyboard
Fully compatible with MAGic, screen magnification software, and OpenBook, scanning and reading program
JAWS Tandem available for free to help with support and training
Optional support for Citrix, Terminal Services, and Remote Desktop
Powerful scripting language to customize the user experience on any application
Includes drivers for all popular Braille displays
Includes voices for over 30 different languages
Distributed worldwide with local sales and support in most countries
Software Maintenance Agreement (SMA)
Software Maintenance Agreement (SMA) is an optional support agreement that entitles you to receive two consecutive upgrades at up to a 50 percent discount over standard list prices.
Call 1-800-645-0673 for pricing!
OpenBook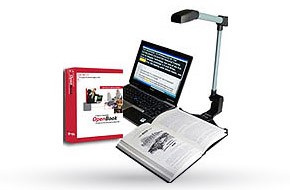 Scanning and Reading Software
OpenBook converts printed documents or graphic-based text into an electronic text format on your PC, using high-quality speech and the latest optical character recognition (OCR) technology. OpenBook is innovative software designed to enhance success for people who are blind or have low vision who need access to printed and electronic materials. OpenBook and the PEARL document camera create a complete scanning and reading system for work, home, and school.
 Features:
Support for Windows® 8.1 and Windows 10
Convert printed text to natural, human-like speech in many languages
Powerful optical character recognition provides editable text
Scan bound books and maintain pagination
Powerful low vision features tailor the appearance of text on the screen, including font style, size, character spacing, and colors
Lightning-fast OCR with the PEARL document camera
Automatic page capture for efficient document acquisition
Versatile document navigation and management tools maximize your productivity
Business and Classroom Features:
Enhanced ability to search for and download books and other materials from the Internet
Full support for listening to DAISY and other audio files
Add comments and highlighting for increased productivity
Emboss Braille documents directly from OpenBook
Export to other applications like Microsoft® Word®
Common key commands with JAWS® and MAGic®
Built-in photocopy functionality
Call 1-800-645-0673 for pricing!
Kurzweil 1000
Kurzweil 1000 is scanning and reading software that makes printed or electronic text accessible to people who are blind or have limited vision. It is the direct descendent of the first reading machine for the blind invented by Ray Kurzweil in 1976.
Using Optical Character Recognition and Text to Speech technology combined with a unique audible user interface, Kurzweil 1000 converts the printed word into speech. Users can scan in books, articles, bills, and advertisements – almost anything that fits on a scanner, so they can quickly have the information read aloud. Moreover, the text can be saved in Kurzweil's accessible format for future reference and modification.
Scanning and reading printed text with accuracy, speed and reliability continues to be the foundation of Kurzweil 1000, but it has evolved into a much more versatile tool. Kurzweil 1000 can open and read a broad variety of electronic text formats, efficiently search, download and read electronic books and magazines directly from sites such as Bookshare.org, Web Braille and other electronic repositories.
Kurzweil 1000 can also share information with the outside world through an array of powerful options including outputting documents and audio files to portable devices; sending files and excerpts to familiar e-mail applications; and faxing or photocopying text and images.
Kurzweil 1000 users have a great deal of control over how they manage the information they access and many tools to assist them in mastering it. To name a few, they can choose from numerous reading voices, set the reading speed and pitch, skim, summarize, look up words using a built in dictionary and thesaurus, create and edit new documents, check for spelling errors, set bookmarks, and share documents or excerpts through conventional e-mail applications.
Kurzweil 1000 provides multiple avenues to accessible information, making printed pages and electronic archives more readily available and more useful than ever before.
Kurzweil 1000 for all Windows Operating Systems: (Kurzweil allows us to sell to South Dakota, North Dakota, and Nebraska)
Call  1-800-645-0673 for pricing!
BrailleNote Touch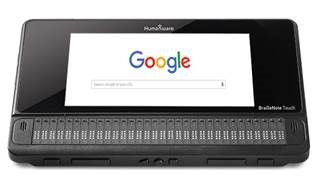 The BrailleNote Touch interface is easy to learn for both students and teachers, combining the benefits of KeySoft and braille literacy of a traditional note taker with the efficiency and power of a modern tablet.
A powerful combination of accessibility and efficiency
The KeySoft user experience with the power of an Android operating system
Linear, user-friendly menu and interface
Supports perfect braille translation in contracted or uncontracted braille, including UEB and multiple languages
First certified Braille Tablet providing Play Store access
Supports Google Play store for accessible third party apps
KeySoft is the driving force behind the BrailleNote Touch, completely rewritten from the ground up to maximize the entire experience of modern users.
Optimized for today's technology
Frequent automatic updates
Simple menu-driven interface
First letter navigation for efficiency everywhere
Familiar keyboard shortcuts to efficiently accomplish tasks
Provides general navigation help, speech and braille in all-accessible third party apps
Offers the efficiency of a note taker to third party apps
Contextual help to provide assistance anytime
Our TouchBraille algorithm brings the traditional braille control of a note taker to a modern and user-friendly platform.
Control navigation of the Touch and edit in braille
Instant calibration – virtually as fast as typing with 10 fingers on a keyboard
Virtual Keys find your fingers as you type
Minimal finger movement or strength to enter text Simply move fingers up and down
Familiar keyboard shortcuts to efficiently accomplish tasks
Writing is completely silent and usable anywhere
In the classroom
Teachers want an easy and interactive approach to help their students learn braille, while students need the most efficient tool to accomplish their everyday tasks, from writing documents and sending emails, to downloading and reading books. The BrailleNote Touch was designed to meet all of these needs and more, to completing class work easier and more efficient than ever.
Smart keyboard cover provides a perfect ergonomic introduction to braille typing for young children
Students can transition to TouchBraille as their motor skills develop
Teachers can receive instant visual feedback
Teachers and supporting IT staff can quickly disable KeySoft with a triple tap of the Home button to use Braille Touch like a standard tablet
Use familiar KeySoft apps for classroom work

KeyWord to create and edit documents
Victor Reader for reading books
KeyMail to send and receive emails in class
KeyWeb for the most modern web browsing experience

Quick access to mainstream apps and cloud storage, including Google Docs, DropBox and YouTube
At work
The BrailleNote Touch was designed to make everyday office tasks as simple and seamless as possible for blind users, from creating professional documents and emails to browsing the web.
BRAILLE ANYWHERE IN ANY APP FOR ANYONE
Create professional documents with KeyWord
Include professional formatting such as headers, bullets and numbering
Files created in .doc or .docx (no exporting required)
Use KeyMail with an Exchange server to sync your emails, contacts and calendars
Research using the most current web browsers
Collaborate and share documents using Google Docs or other cloud services
Communicate with colleagues around the world with popular communication apps (Google Hangouts)
Use any accessible third party app with KeySoft and TouchBraille
Call 1-800-645-0673 for pricing!
KNFB Reader for Enterprise Edition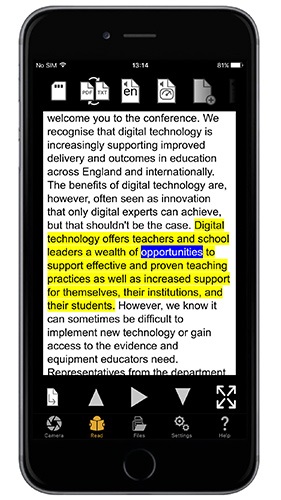 The KNFB Reader can recognize and read printed materials in a variety of languages.  By harnessing the power of digital photography coupled with state of the art hardware, this highly praised app, tailored to the specific needs of people who are blind or visually impaired, makes access to print materials much faster and more efficient than ever.
Fast

: With the touch of a single button, read virtually any type of printed text, including mail, receipts, class handouts, memos and many other documents.

Accurate

: Accuracy is facilitated by a field of view report, automatic page detection, and tilt control.

Efficient

: Proprietary document analysis technology determines the words and reads them aloud to the user with high quality text-to-speech.
One solution for several devices: KNFB Reader Enterprise
If you want to use your KNFB Reader app on multiple devices and platforms, KNFB Reader Enterprise is the right solution for you. Versions available for iOS, Android and Windows! With a KNFB Reader Enterprise license, you can install the app on 2 or more devices, independently of the platform you use. Turn on link to Dropbox, allowing backup and restoring files from Dropbox and easy file sharing.
Call 1-800-645-0673 for pricing!
Duxbury Braille Translator (Windows & Mac)

Interline Printing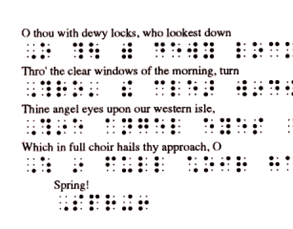 What does software for braille do?
Most people understand the basics about braille: that it provides a reading medium for blind people, using "cells" made up of raised dots in various patterns instead of the characters used in regular print. But many people do not realize that the cells-for-characters substitutions are not, typically, on a one-for-one basis. The process is especially complicated in languages such as English and French where "grade 2" braille is used, involving "contractions" that are based in part upon pronunciation. Formatting of braille pages also involves issues beyond those affecting print. DBT provides translation and formatting facilities to automate the process of conversion from regular print to braille (and vice versa), and also provides word-processing facilities for working directly in the braille as well as the print. "Fonts" are used for displaying the braille.
Who uses software for braille?
Our software is designed for two types–those who don't know braille and those who do. Even if all the braille you know was learned from the previous paragraph, the Duxbury Braille Translator (DBT) will allow you to create highly accurate braille for school books and teaching materials, office memos, bus schedules, personal letters, signs compliant with the Americans with Disabilities Act (ADA) and more. Where you need to be sure of "perfection," we would certainly recommend that you also make use of proofreading (just as you would proofread print books) by a knowledgeable braillist–who may be using DBT as well. That is because DBT is just as important to professional transcribers–for swift conversion to braille from a wide variety of print sources.
Interline Printing (See the second image)
Notable Features of DBT
DBT is simple to use–beginners learn in just minutes. Yet its depth, power and accuracy are such that it is used by most of the major braille production centers throughout the world. The current version provides the following features:
Built-in interline printing (see sample above) to have ink-braille and print together. This makes an easy proofing and teaching tool. Great for the braille-impaired too!
Math/Science Code and Computer Braille translation for American, UEB, British, and French Braille.
Intermediate levels (between grade 1 and 2) for American and British braille
The ability to include tactile graphics files for mixed text-and-graphic documents
Duxbury DBT can import files from the GOODFEEL Music Translation program from Dancing Dots.
The current translation table menu includes over 130 different languages plus variations, including contracted braille for most jurisdictions where contracted braille is customarily used.
Duxbury DBT can import Microsoft Word 2007/2010/2013 files, as well as Open Office files.
DBT allows languages other than the principal language to be embedded in the same file and treated as appropriate for the context. (Contact us if you have questions about a specific language.) Now braille for foreign-language texts and language teaching texts is a snap.
Bidirectional (print-to-braille and braille-to-print) translation for most languages.
American textbook layout according to Braille Authority of North America (BANA) standards
DBT is there to help you learn new languages. DBT includes support for the IPA notation, American-style Hebrew, and the form of Greek used by American scholars. Of course, DBT also directly supports the braille for most of the languages that are taught at the secondary level or college level.
Accurate presentation of both print or braille in either WYSIWYG (what-you-see-is-what-you-get) or coded (how-you-get-what-you-want) views in the word-processing screen, with easy switching between views
A "translated line" showing the "other" form in either print or braille files
Six-key chording for braille and print entry, not timing-based, compatible with most keyboards
Help screens throughout the program
Over 100 formatting & translation codes for a high level of flexibility
A library of user-configurable styles
A user-extendable template library for even more flexibility
A spell-checker with 300,000-word dictionary
A "Quick Find Misspelling" feature for increased speed and ease of use
Embossing to all major braille printers; the first page may be a "banner" for job identification by personnel who don't read braille
Single-user and Network licenses available.
Unlimited technical support by telephone, email, fax, etc.
An Internet user forum to communicate with other Duxbury users
All backed by a 90-day satisfaction guarantee!
Call 1-800-645-0673 for pricing!