Dragon® Professional Individual, v15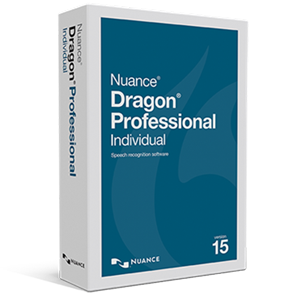 NC-181 VM USB On-Ear Mono (Monaural) Headset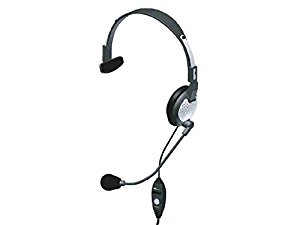 The all-new Dragon Professional Individual, v15, a smarter next-generation speech recognition solution empowers busy professionals to complete documentation and reporting quickly and accurately on the PC, so you spend more time on activities that boost the bottom line. Leveraging the latest in Deep Learning technology, Dragon constantly learns and adapts to your unique voice and environmental variations—even while you're dictating—to deliver new levels of personalized accuracy and productivity.
Robust transcription, powerful customization, and the ability to seamlessly sync with the Dragon Anywhere mobile dictation solution extend the benefits of speech recognition to meet your unique business needs wherever your job takes you.
AMAZINGLY ACCURATE! Dragon NaturallySpeaking 15 is up to 99% accurate, and often more accurate than typing. Dragon NaturallySpeaking never makes a spelling mistake, and it actually gets smarter the more you use it!
FASTER THAN TYPING! Most people speak over 120 words per minute, but type less than 40 words a minute. Dragon NaturallySpeaking lets you create letters and e-mails about three times faster than typing by hand!
SO EASY TO USE! You'll be dictating letters, e-mails and surfing the web by voice right away! No script reading required to get started. We even include a full set of on-screen tutorials, and a Nuance approved free noise-canceling microphone.
USE WITH ANY WINDOWS PROGRAM! Use your voice to dictate, edit and control applications like Microsoft® Word, Microsoft® Excel, Microsoft Internet Explorer, and Corel® WordPerfect®.
BEST SELLER AROUND THE WORLD! Dragon products have won over 175 major awards for accuracy and ease of use, and are used by more people around the world than any other speech recognition software.
BLUETOOTH SUPPORT! Use Dragon NaturallySpeaking with Nuance-approved Bluetooth headsets. MOBILE Dictate into any Nuance-certified handheld device for automatic transcription when you synch with your PC.
Minimum Specifications: CPU: Intel® Pentium4® or later or AMD Athlon 64 1 GHz or later. (SSE2 instruction set required). Memory: 512 MB RAM (1 GB RAM for Windows Vista™) Free hard disk space: 1 GB (2 GB for localized non-English versions) L2 Cache: 512 KB Supported Operating Systems: Windows Server 2000, Windows Server 2003, Windows XP SP2 or higher, 32-bit, Windows 2000 SP4 or higher, Windows Vista™ or Windows Vista™ SP1, 32-bit and 64-bit. DVD-ROM drive (required for installation) Microsoft® Internet Explorer 6 or higher (free download available at www.microsoft.com) Nuance-approved noise-canceling headset microphone (included, except for upgrades), Creative® Labs Sound Blaster® 16 or equivalent sound card supporting 16-bit recording For details on Bluetooth microphones, Tablet PCs and other hardware, please go to support.nuance.com/compatibility/. A Web connection is required for activation During the install process, the software checks that your system meets these requirements; if they are not met, it will not be installed.
This edition of Dragon does not support dictation directly into Electronic Medical Record (EMR) Systems. For EMR support, please use Dragon Medical Edition.
We recommend a high quality microphone with Naturally Speaking Professional!
Call DakotaLink at 1-800-645-0673 for pricing!
Dragon ® Medical Practice Edition 2
Dragon Medical Practice Edition helps clinicians – including physicians, nurses, nurse practitioners, physician assistants, therapists, and other care providers – efficiently navigate and dictate medical decision-making and treatment plans directly into a patient's electronic record. Designed for small practices with 24 physicians or less, Dragon Medical Practice Edition helps practices:
Improve documentation

Eliminate transcription costs

Increase physician satisfaction

Enhance efficiency

Increase practice profitability

Improve care efficiency. Dragon Medical Practice Edition offers virtually instant response time, saving clinicians valuable minutes in their day – no more waiting for transcribed reports or needing to type into their EHRs.

Reduce transcription and the cost of documentation. Using speech recognition technology, clinicians dictate, edit and sign medical records at the point of care, eliminating as much as $12,000 in annual transcription costs.

Spend more time with patients. Increased accuracy means fewer errors to correct, which lets clinicians spend more time with patients, improving both quality of care and patient satisfaction. Improve documentation. Documentation with Dragon Medical speech recognition technology – as opposed to notes built by point-and-click EHR templates alone – results in higher rates of reimbursement.

Secure patient information. Dragon Medical Practice Edition supports HIPAA patient confidentiality guidelines.

Improve physician satisfaction. With Dragon Medical Practice Edition, physicians look forward to practicing medicine – and getting home in time for dinner.

Increase reimbursement. A major study by a physician practice in the Northeast determined that using Dragon Medical with an EHR increases per-physician reimbursement by $10,000 per year per physician.
Benefits
Improves the speed and accuracy of documentation

Accelerates physician EHR adoption

Dramatically reduces transcription costs

Allows physicians to spend more time with patients

Captures the patient story in the clinician's own words

Supports higher level of reimbursement, lower number of denials

Improves clinician satisfaction

Supports HIPAA guidelines to protect patient confidentiality

More accurate than ever In clinical settings, Dragon Medical Practice Edition 2 is over 20% more accurate than the previous version and — and over 60% more accurate than Dragon Professional 12 when used in clinical settings

Recognition speed – Dragon Medical Practice Edition improves recognition response time significantly.

EHR support – Navigate and dictate inside EHR software: History of Present Illness, Review of Systems, and Assessment and Plan.

Medical vocabularies – Covers nearly 90 specialties and subspecialties.

Regional accent support – Accented speakers get higher "out-of-the-box" recognition with advanced adaptation techniques and accent-specific acoustic models.

Hidden mode – Dictate anywhere in the EHR, eliminating navigation between EHR screens and the notes window.

Dragon Medical Template Library – Includes library of macros for standard notes and "medical normals" by body system.

Smart configuration – Automatically detects hardware resources. Its state-of-the-art technology takes advantage of advances in hardware and runs in multiple threads automatically when multi-core hardware is detected for better recognition performance.

Recognition analytics – Automatically detects poor audio input and alerts the user, offering advice to remedy the situation and improve accuracy.
Recommended System Requirements
CPU: 2.4 GHz Intel Dual Core or equivalent AMD processor. (IMPORTANT: SSE2 instruction set required) Processor Cache: 2 MB Free hard disk space: 5 GB RAM: 2 GB RAM for XP and Vista, and 4 GB for Windows 7, 8 and 2008 64-bit/2012 Microsoft Internet Explorer 8, 9, 10 (free download at www.microsoft.com) Creative® Labs Sound Blaster® 16 or equivalent sound card supporting 16-bit recording USB or DVD-ROM drive required for installation Supported Operating Systems: Microsoft Windows 8, 32-bit and 64-bit, Microsoft Windows 7, 32-bit and 64-bit, Microsoft Windows Vista SP2, 32-bit and 64-bit, Microsoft Windows XP SP3, 32-bit only, Windows Server 2008, SP1, SP2, and R2, 32-bit and 64-bit (Windows 2008 R2 64 bit SP2 ONLY)
Naturally Speaking Medical Solutions: Call DakotaLink at 1-800-645-0673 for pricing!
Dragon Naturally Speaking Legal Solutions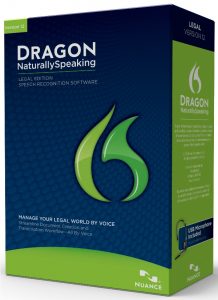 Enjoy Unparalleled Speech Recognition Accuracy and Performance. Dragon Legal offers unprecedented speed and accuracy. You can create documents and emails three times faster than typing with up to 99% accuracy. And because Dragon Legal tunes itself to what you say and how you say it, it becomes even more accurate over time.
Dictate Directly Into Your PC or Use a Digital Handheld Recorder. Depending on how and where you work, you can choose your preferred dictation approach. Dictate directly into your PC or use a digital voice recorder. Dragon will automatically transcribe the audio files of your voice when you connect to your PC. Or Dragon will make the transcription files available to support staff for third-party correction and will automatically update your user profile based on those corrections.
Streamline Third-Party Correction. Both the audio and the transcribed text of a digital voice recording can be sent to a transcriptionist for review. An Auto-Transcribe Folder can manage text and synchronized audio flow for third-party review, which streamlines the process of correcting another person's dictation.
Automate Repetitive Document Creation Tasks. Dragon Legal lets you (or someone on your IT staff) create custom voice commands to instantly build and format templates for contracts or other legal documents, or trigger the execution of frequent or multi-step computer tasks. Custom commands can be used to quickly enter frequently used boilerplate text and images (including formatted paragraphs, bullet points, and graphics like scanned signatures), or to automate a sequence of tasks such as saving a document under a client name, printing it, and attaching it to an email.
Dragon Voice Shortcuts Let You Perform Tasks Faster Than Ever. With Dragon Voice Shortcuts for Email and Calendar, you can say, "send email to Jon Smith and Raphael Sanchez," and Dragon Legal will activate your email program, create a new email, and add the appropriate email addresses. Or to schedule a meeting, you can simply say, "Schedule meeting with Jon Smith and Raphael Sanchez," and Dragon jumpstarts the process by opening a new calendar entry in Outlook and adding the selected contact(s).
Manage Large User Networks. Dragon Legal offers administrative tools to manage large user populations. Organizations with large deployments can centrally manage voice profiles, custom vocabularies, and multiple installations. Robust security and configuration options enable administrators to control Dragon usage across the enterprise.
We have many microphones to choose from…call DakotaLink at 1-800-645-0673 for pricing!