BigKeys LX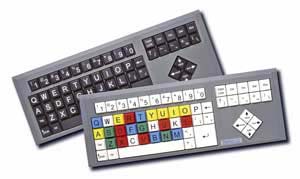 Full-size keyboard, 7 inches by 18 inches; 60 oversized keys: every key on the BigKeys LX keyboard is 1" square, USB connector, top quality click-style key switches, tested to over 10 million keystrokes, high-impact injection-molded ABS case and keycaps, wear-resistant UV coated keycap printing, compatible with PC Windows computers
All keys are easy to see: 1-inch square!

Familiar QWERTY alpha key layout or ABC layout. (Built in logic allows switching layout to meet future needs.)

Easy-to-read key labels: large black printing on bright-white or multi-color keys -OR- bright-white letters on black keys!

Contains all essential characters: 97-character keyset. Compatible with all major software packages.

No special software required! Just plug into your PC in place of the regular keyboard.

No run-on! Each key press generates only 1 character, no matter how long the key is held down.

Punctuation Keys – All standard punctuation characters are included. F1 – F10 keys – Press and hold the "F" key and the numeric keys become F1 – F10.

Assist mode – To accommodate one-handed operation, BigKeys LX provides an Assist Mode. In Assist Mode, function keys can be produced by successively pressing F and the numeric key (rather than simultaneously pressing the 2 keys.)

"Run-on" eliminated – A single key depression causes one character to be sent to the computer no matter how long it is held down.

1 year replacement warranty
BigKeys LX, Color/ABC:

BigKeys LX, Color/QWERTY:

BigKeys LX, White/QWERTY:

BigKeys LX Keyguard:
Big Keys Plus w/ fewer function keys is available for the same price: please call DakotaLink at 1-800-645-0673 for pricing.
Ergonomic Keyboard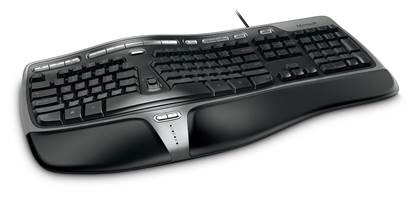 Microsoft Natural Ergonomic Keyboard 4000
• Split ergonomic design encourages natural hand, wrist, and forearm positions
• Cushioned palm rest provides support and promotes a neutral wrist position
• Palm lift promotes a relaxed, natural angle for your wrist
Given the time you spend with your hands on a keyboard, investing in Microsoft's best-selling line of ergonomic keyboards can pay dividends in greater comfort. According to some studies, ergonomic keyboard designs, such as the Microsoft Natural line, have been associated with significant reduction of carpal tunnel syndrome symptoms.
Call DakotaLink at 1-800-645-0673 for pricing!
Trackball Mouse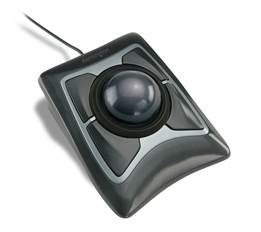 Kensington Expert Trackball Mouse
• Large ball Trackball Mouse with Scroll Ring for comfort and precision
• Customizable 4-Button design via TrackballWorks software
The Expert Mouse Wired Trackball is the productivity enhancer professionals use to get more work done in less time. It offers highly accurate cursor control and great comfort for your hand and wrist. TrackballWorks software can customize the 4 buttons, and the Scroll Ring lets you quickly scan up and down your screen.
The Detachable Wrist Rest has soft cushioning that cradles the hand and wrist in ergonomic comfort for pain-free productivity during extended periods of activity on the computer.
Call DakotaLink at 1-800-645-0673 for pricing!
SlimBlade Mouse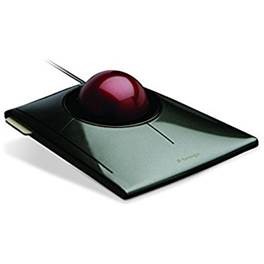 Kensington SlimBlade Trackball Mouse
• The low-profile shape along with the silver metallic finish offer beautiful aesthetics and ergonomic comfort. The trackball takes up less desk space than what is needed to operate a mouse and is more comfortable during extended use because it requires less arm and wrist movement.
• Laser technology provides highly accurate and responsive cursor tracking and scrolling, plus the large 55mm ball makes it quicker and easier to navigate anywhere on the screen
• Ambidextrous design for left or right-handed users
• Compatible with Windows (including Windows 10) and Mac OS Computers
The SlimBlade Trackball is unique because of its twist scrolling. Simply spin the trackball sideways and you cruise up and down documents and web pages. The low profile design offers comfortable ergonomic support and dual lasers create precise cursor control to minimize hand and wrist movement.
Call DakotaLink at 1-800-645-0673 for pricing!
Sit Stand Workstation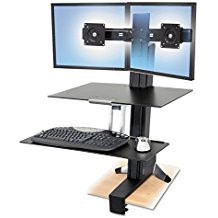 Ergotron Sit Stand Workstation
Ergotron products adapt technology to the physical needs of each individual. This creates a work environment that promotes wellness while improving productivity.
Neutral Posture + Voluntary Motion + Rest = Comfortable Computing
That's the ergonomic equation and it begins with you. Find your zones by understanding the details of this simple, three-part concept.
1) Neutral Posture
Arrange display & keyboard to support a neutral posture will result in less strain, lower energy spend and reduced fatigue
2)Voluntary Motion
Incorporate movement into computing routine will result in better circulation; less static load causing injury
3)Rest Time
Frequent breaks & recuperation will result in your body rejuvenates from static loading
The right mount will give you the maximum amount of flexibility to get into the right ergonomic zone. By simply following ergonomics routines throughout the day you'll decrease the strain on your body and reduce risk of repetitive stress injuries (RSI).
Call DakotaLink at 1-800-645-0673 for pricing!
TM5 Mini Eye Gaze Computer and AAC Control

TM5 Mini Eye Gaze Computer and AAC Control
The TM5 is being used by people all over the world, who can now control their computer or communicate on their own terms from anywhere, any time of the day using eye movements. From Students to professionals, people living with ALS, Cerebral Palsy, Muscular Dystrophy, Spinal Cord Injuries, Traumatic Brain injuries, Stroke and more, are living their lives… being productive, because EyeTech Eye Gaze systems unlock a world of Freedom and Knowledge.
With its modular design, single USB connection and low power consumption, the TM5 mini enables users to magnetically mount their systems to their speech devices, at home, at school…anywhere across multiple computers.
Call for DakotaLink at 1-800-645-0673 for pricing!