iPad with Proloquo2go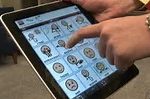 We have used iPads with Apps like Proloquo2go. You can build a communication device for as little as $600.00
GoTalk Communication Device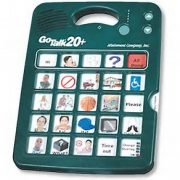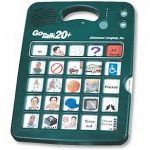 The GoTalk 20+, a lightweight and portable communication tool, features 100-message capacity. It includes all of the simple GoTalk features, with five recording levels, twenty 1″ square keys and 15 minutes of recording time. Use five core message keys that stay the same on each level to avoid needing to re-record essential messages. The GoTalk line of communication devices are digital recorded devices. They come in layouts 7, 9, 20, and 32.
Here's how it works:
Determine communication messages
Select PCS™ for each button
Print overlay using a Boardmaker Software product or create your own overlay
Slide overlay into GoTalk
Record messages
Student presses button to hear message and communicate
Measures 9″ x 12″ x 1.125″ with built-in handle. Weighs 23 oz. Two AA batteries (not included).
TM5 Mini Eye Gaze Computer and AAC Control
TM5 Mini Eye Gaze Computer and AAC Control
The TM5 mini is being used by people all over the world, who can now control their computer or communicate on their own terms from anywhere, any time of the day using eye movements. From students to professionals, people living with ALS, Cerebral Palsy, Muscular Dystrophy, Spinal Cord Injuries, Traumatic Brain injuries, Stroke and more, are living their lives… being productive, because EyeTech Eye Gaze systems unlock a world of Freedom and Knowledge.
With its modular design, single USB connection and low power consumption, the TM5 mini enables users to magnetically mount their eye gaze systems to their speech devices, at home, at school… anywhere across multiple computers.