Echo Smartpen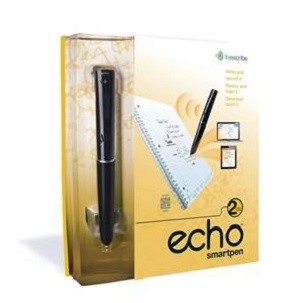 Never Miss A Word. Record and play back everything you write and hear. Then, using a USB cable, transfer your notes and audio to your computer. Record everything you write, hear or say. Replay your meetings or lectures simply by tapping on your notes.
Micro-USB Connector – Transfers notes and audio to your computer and recharges your smartpen using a USB connection.
Audio Jack – Standard 3.5mm jack fits your own earphones or the Livescribe 3–D Premium Recording Headset to enable binaural recording.
OLED Display – High–contrast OLED display.
Microphone – Capture your meetings or lectures with crisp clear sound.
Built-in Speaker – Built–in speaker produces rich, full sound to play back your recorded audio.
Memory Storage – 2GB model holds 200 hours of audio.
Ergonomic Grip – The ergnomic grip design provides comfort during long meetings and lectures.
Replaceable Ink Tip – Simply remove the ink cartridge by pulling it out with your fingertips. Insert a new cartridge until it clicks into place.
Call 1-800-645-0673 for pricing!